Episodes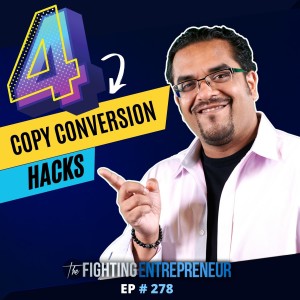 Friday Jul 22, 2022
Friday Jul 22, 2022
Today's solo episode of The Fighting Entrepreneur covers the 4 copywriting hacks Anik swears by that can instantly help you increase conversions.
These are copy tips and tricks that Anik uses EVERY single day, and has mastered over his 19-year career.
He also revealed…
How to master the psychology of your target audience…

Why direct marketing is completely dead - but has led to the rise of "interactive" marketing…

Why creating "Ah Ha" moments for your audience is more critical than ever…

How to keep an audience engaged in 2022…

The surprising copy hack Donald Trump used in his campaign that helped him get elected…
See this all for yourself in today's extremely informative episode!